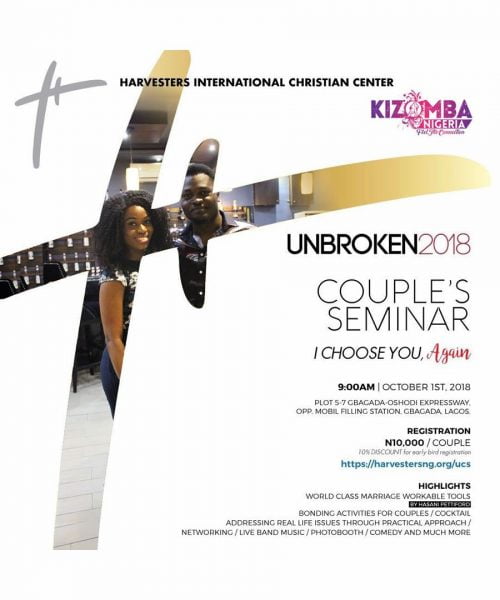 Venue:

Has Ended
Enquries? call: +2348056304856, +2348172471052
We're sorry, but all tickets sales have ended because the event is expired.
Schedule:
Introductory Session


October 1, 2018




12:00 pm - 1:00 pm
This event is private and access is by invite ONLY. To gain access to this event click the button below
Get Access
ABOUT UNBROKEN
Marriage and relationships are ordained to be beautiful and a source of joy. We were made for connection. Marriage is also the reason why we have people on earth today, It is how we all got here. It is perhaps one of the most anticipated phases of peoples lives, which is why it has since come under a severe onslaught because if marriage and relationships go wrong, lives could go wrong. Better marriages and relationships will produce better people.
At Harvesters, where our core focus is on Changing Lives, UNBROKEN was birthed 3 years ago as one of the additional initiatives to help realise this. With the increasing rates of divorce and separations, dysfunctional homes, marital and relationship unfulfilment, broken relationships and emotionally bruised people, a swift and effective aid must come to the institution of marriage and relationships.
Since its debut, UNBROKEN has significantly contributed to increasingly successful relationships, happier marriages, building Godly homes and UNBROKEN 2018 promises to be even richer as we unravel seemingly complex topics and issues like: